Why live in one of our villas for sale in Cabo Roig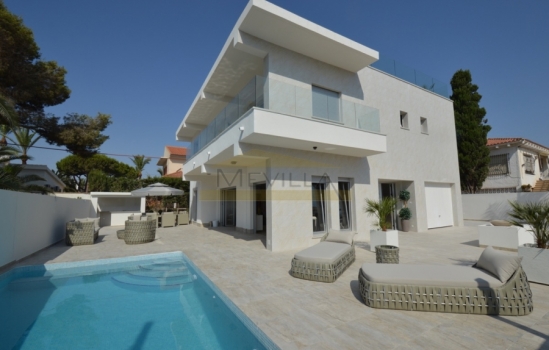 Living a step away from the beach has always been considered a luxury within the reach of few people. Fortunately, today, this situation has become more normalized and it is more frequent to find foreigners and nationals in search of a second residential home on the Costa Blanca, such as our villas for sale in Cabo Roig.
They say that the sea heals everything, heals all wounds and leaves you mint clear. The multiple benefits offered by living near the Mediterranean can be the solution to many physical and psychological problems . If you want a change in your life towards well-being, the south of the Costa Blanca of Spain awaits you.
Cabo Roig, with an average temperature of 20º C per year, is the diamond in the rough of Orihuela Costa (Alicante) . This municipality is known for its spectacular fine sandy beaches, sunny days and its magnificent panoramic view from the Cape. The main coves that you should visit are Cala Caleta and Cala Capitán , both awarded with the greatest recognition: the Blue Flag.
However, there are other beaches of interest nearby such as Villamartin, Playa Flamenca, La Zenia, Punta Prima, Campoamor and Mil Palmeras. You will need to stay for a while to explore all of them. His charms are not wasted.
The villas for sale in Cabo Roig, the paradise of the Mediterranean
The lazy awakenings after hearing the mobile alarm become very irritating in our routine. There will be no better awakening than in one of our villas for sale in Cabo Roig with the sound of the waves of the sea in the background and the scourge of the refreshing breeze.
The healthy climate has a direct impact on a person's lifestyle. With favorable weather conditions like those of Cabo Roig, you will face the days with positivity. Cabo Roig is a beautiful corner of the Mediterranean that falls in love wherever you look . Along the promenade the views are lost, on the one hand, by Torrevieja and on the other, by the Mar Menor.
Resale villas are very affordable to acquire thanks to their excellent value for money. Many of them are already designed to take advantage of greater energy efficiency . We take our commitment to the environment very seriously. Nowadays, it is essential to have a sustainable house since it is synonymous with saving on electricity and water bills.
One of our villas for sale in Cabo Roig is for you
If you are looking for a quality property in a coastal area, as is the case of one of our villas for sale in Cabo Roig, Mevilla is your trusted real estate to find the best areas with the best conditions.
Do not keep your money under the mattress for life and put it into operation to gain greater performance. Invest the work of many years in a smart real estate project .
Find us in Torreón street - Local 7 - 03189 Cabo Roig (Orihuela Costa - Alicante - Spain), call us at (+34) 966 761 390 or (+34) 606 046 275 or send us your email to the following address: info @ mevilla.com We will be happy to receive you.
21 Aug 2019
Latest News

Discover the coast on J/109 Mevilla-Jumbuck With our experienced skipper we offer you day charters...
Read more + 14 May 2020

Are you passionate about the sea? Is your dream to live in a place where the sun always shines? MEVILLA has fabulous...
Read more + 20 Feb 2020

If you want to live in the tourist Orihuela Costa, you will be surprised to discover the beautiful surroundings where our...
Read more + 14 Nov 2019