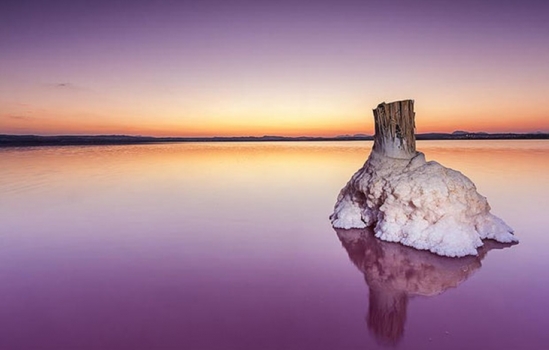 Not far from La Zenio or Cabo Roig with its fantastic villas, townhouses or luxury apartments, we find the Natural Park of Las Lagunas de Torrevieja.
In the Alicante region of La Vega Baja del Segura there is a huge pink lagoon of 1,400 hectares
This phenomenon of natural origin, unique in Spain, is produced by a bacterium that releases a pinkish pigment in waters with a high concentration of salt
The salty lagoon to others is productive, since 800,000 tons of salt are extracted annually from it, which are exported to northern Europe and the United States for industrial purposes from the thaw salt for roads to the salt of the dishwasher, and also with food purposes
Depending on the day you can see different colors and tones. Because of the salt you have, you can see an intense pink gum spectacular.
Depending on the time of day you are going, the sensation changes: sometimes it looks like a lunar landscape, sometimes an oasis of perfect peace,
The views of this lagoon are spectacular, especially at dusk, during the warmer months and just before the rain, the picture is magical.
After enjoying during the day the fantastic beaches of Cabo Roig or La Zenia, in the afternoon we suggest you do not miss the wonder of nature that gives us the La Laguna of Torrevieja
25 May 2019
Latest News

Discover the coast on J/109 Mevilla-Jumbuck With our experienced skipper we offer you day charters...
Read more + 14 May 2020

Are you passionate about the sea? Is your dream to live in a place where the sun always shines? MEVILLA has fabulous...
Read more + 20 Feb 2020

If you want to live in the tourist Orihuela Costa, you will be surprised to discover the beautiful surroundings where our...
Read more + 14 Nov 2019