In our villas for sale in Cabo Roig you will discover a dream balcony to the Mediterranean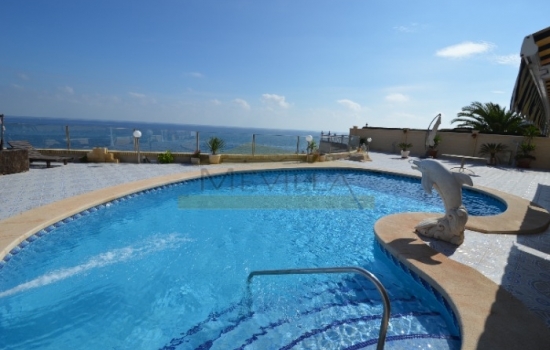 Are you passionate about the sea? Is your dream to live in a place where the sun always shines? MEVILLA has fabulous villas for sale in Cabo Roig. Come with us to visit them and be surprised when you discover its panoramic views of the sea. If your desire is to live on the Costa Blanca to enjoy its sunny winters and its magnificent beaches of temperate and transparent waters, on the coast of Orihuela Costa we find Cabo Roig, a spectacular corner that will not leave you indifferent.
Sheltered by this cape, formed by reddish cliffs, we discover its popular cove "La Caleta" with its calm and shallow waters. It is the perfect place to have fun with family or friends at any time of the year. The sunny winters in Cabo Roig are ideal for wearing comfortable clothes and walking along the shore of the beach. Do not give up feeling the warm sand under your feet while listening to the murmur of the waves of the sea ...
You will love to share with your followers on Instagram the fabulous photographs that you will take from its spectacular Paseo - Mirador full of shops, restaurants and terraces where you can sunbathe while savoring an ice cream. Another aspect of great relevance of this attractive corner of the Costa Blanca is its Cabo Roig Marina Yacht Club: you can hire the mooring of your boat or practice water sports such as sailing, windsurfing, jet skiing, etc.
Cabo Roig is located very close to the popular Torrevieja , the most important tourist center of the Costa Blanca South. There you will find:
Wonderful coves and golden sand beaches
Natural rock pools with warm waters

Many nightlife and entertainment venues throughout the day

Infinity of shops, shopping centers, restaurants, bars,…

Medical consultations and hospitals
If you are looking for a charming and sunny refuge to disconnect, visit our villas for sale in Cabo Roig
In our villas for sale in Cabo Roig you will lead the relaxed lifestyle that you have always wanted. You will live surrounded by nature in an exclusive residential area with a select neighborhood where you will find all the services you need in your environment. Our luxurious villas in Cabo Roig are built with top quality materials. Its spacious rooms are bright and very comfortable. You can choose the villa with two, three, four, ... bedrooms depending on your needs. Our villas have spectacular swimming pools surrounded by large solarium areas and beautiful gardens . Its amazing architectural designs offer a rustic and traditional look, very typical of the Costa Blanca, with its white balustrades, its ocher roofs, or its charming porches with arches.
We also have in our extensive portfolio of homes, modern design chalets, characteristic for their straight lines and large glazed areas on the facades.
We would love to inform you about our villas for sale in Cabo Roig
If you are interested in knowing more information about our villas for sale in Cabo Roig, we will be happy to inform you about all those questions you want. To do this, fill in the contact form that appears on the web or send us an email to info@mevilla.com and we will contact you.
If you prefer, visit us personally in our offices located in Torreón Street, Local 7 - 03189 Cabo Roig - Orihuela Costa (Alicante) Spain.
Telephones: (+34) 966 761 390 | (+34) 606 046 275
20 Feb 2020
Latest News

Mevilla on the popular TV show "A place in the Sun" Mevilla - how we expand your possibilities when selling your...
Read more + 25 Nov 2021
Since the day of today military certificates which was obliguatory to obtain for non-Eu Residents when purchasing a...
Read more + 2 Jul 2021
The Alicante Association of Real Estate Agents points out that national buyers have partly compensated for the fall in...
Read more + 13 May 2021