The homes for sale in Cabo Roig that you will find at the best market price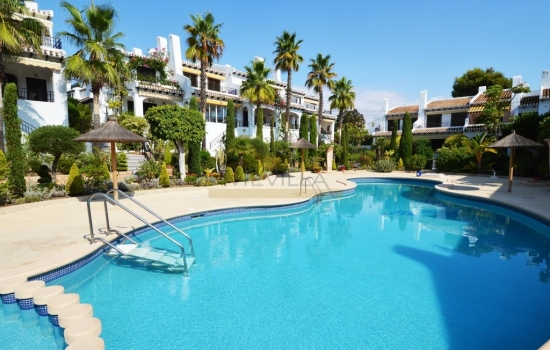 The budget is one of the research that concerns us most when buying or renting a house . The advantage of our homes for sale in Cabo Roig is that most are resale, so the price is lower compared to newly built houses.
We are aware that not everyone can afford the privilege of living in a luxurious house with all the comforts. To reach that prestigious lifestyle, a lot of monetary effort is needed, available to few people. The middle class also deserves to aspire to decent housing. From this premise, Mevilla offers a variety of 75 properties including villas, villas, duplexes, penthouses, bungalows, apartments, etc. For second chances.
To live in a duplex with a pool or a bungalow with a garden or a penthouse with views you do not need to invest such a huge sum of money . Our promotions can meet your financial needs. In addition, we ensure that the properties are free of charges and community fees, if applicable. Transparency with the client is vital to guarantee the success of the negotiation . Don't complicate your life and make sure you leave the process in the best hands.
You will find comfort in our homes for sale in Cabo Roig
Our homes for sale in Cabo Roig are characterized mainly by the comfort, tranquility of the area and the perfect finishes of their infrastructure . Depending on the needs of the buyer, real estate agents will be responsible for applying the appropriate filters to find your ideal property.
Why choose Cabo Roig as your destination? Cabo Roig is framed within the municipality of Orihuela Costa (Alicante, Spain) and is fortunate to be involved in an exceptional and very differentiated Mediterranean climate compared to other coastal areas. The residential developments of Campoamor, La Zenia and Villamartin also accompany Cabo Roig to add positive experiences by the Mediterranean Sea. Without a doubt, the Costa Blanca is the perfect destination for those who don't want to be cold during the infernal winters .
Who likes to lock themselves in the house because of the weather? The weather is not an excuse to stop going to the gym, buy at the supermarket or have drinks with your friends . Some savings will be enough to say goodbye, finally, to the gray days and constant rains that turn off your mornings and afternoons. That is not the routine you had dreamed of. In Spain you will fall short of the days of the week thanks to the multitude of plans you can organize (tourist visits, natural parks, water parks, beach walks, outdoor sports, golf, etc.).
If you are looking for cheap homes for sale in Cabo Roig, Mevilla offers you a variety of options
If you inform yourself of the cheapest properties in the market in Cabo Roig, you will realize that our homes for sale in Cabo Roig are the most affordable. In Orihuela Costa there is a family and multicultural atmosphere with the presence of international tourists (Dutch, English, Russian, German, Finnish, Swiss, etc.).
Mevilla gives you the push you need to improve your quality of life. Contact our real estate agents to turn your routine into joyful days:
· Office address: C / Torreón - Local 7 - 03189 Cabo Roig (Orihuela Costa - Alicante - Spain)

Telephone: (+34) 966 761 390 or (+34) 606 046 275

· Email: info@mevilla.com
12 Sep 2019
Latest News

Mevilla on the popular TV show "A place in the Sun" Mevilla - how we expand your possibilities when selling your...
Read more + 25 Nov 2021
Since the day of today military certificates which was obliguatory to obtain for non-Eu Residents when purchasing a...
Read more + 2 Jul 2021
The Alicante Association of Real Estate Agents points out that national buyers have partly compensated for the fall in...
Read more + 13 May 2021