Wake up every morning with the spectacular views from our villas for sale in Orihuela Costa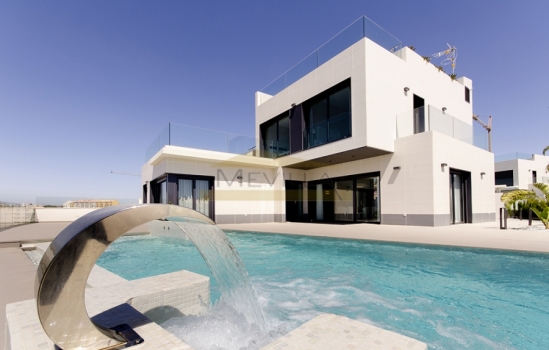 From the terrace of our villas for sale in Orihuela Costa you can glimpse spectacular panoramic views of the beauty of the waters of the Mediterranean Sea in all its states: from the most orange sunsets with an imposing sun to the brightest and most pink sunrise.
They say that the train only passes once and that great opportunities have to be seized because it is not known when they will be presented again throughout your life. If the opportunity arose to live in a place far from the big cities, where to enjoy the benefits of salt water and sunny days at an affordable price, I would not let it escape without a doubt.
This special occasion can be the solution to many problems. Feeling very close to the sea you will begin to live a more relaxed life and you will better manage your stress outbreaks . You will see how your mood will be transformed in a few days of constant positivity and good energy. The benign effects of the sea are miraculous and it is proven that they have their consequences in people who suffer from some physical and psychological pathology. Think about the well-being of your children and in what environment you want them to be educated.
Villas for sale in Orihuela Costa, a step away from the beach
Health is the most important thing in this life and if one of our villas for sale in Orihuela Costa may be the miracle you need to improve the circulation of your legs or drive away the pain of osteoarthritis, welcome.
Where can you find specifically the best villas to live in Orihuela Costa? We propose four places that you will love from end to end: Cabo Roig, Campoamor, La Zenia and Villamartin . The resale and new construction villas that are in them are characterized by their quality and the good condition of their materials.
In addition, among these wonders you can find additional services that will make your life easier, such as: swimming pool (own or communal), garden with option to include a barbecue area or large terrace where you can appreciate the nature of the waves of the sea . Now you will think: How happy I would be in such an ideal place like this!
How to invest in one of our villas for sale in Orihuela Costa
Do not stay with the desire of what would have happened if you had bought one of the villas for sale in Orihuela Costa. Would you be happier than now? We assure you that you will not find another more beautiful and ideal place to share with your family. The Costa Blanca of Spain is a quiet destination full of quality beaches and beach bars where you can have good tapas and a well-deserved Spanish paella .
Do not go crazy looking online and go straight to the point to what you want. Visit our facilities and know us better. You can find us in Torreón Street - Local 7 - 03189 Cabo Roig (Orihuela Costa - Alicante - Spain). We also have other contact channels such as:
Nothing satisfies us more than seeing the happiness of a family in their own home.
23 Aug 2019
Latest News

Mevilla on the popular TV show "A place in the Sun" Mevilla - how we expand your possibilities when selling your...
Read more + 25 Nov 2021
Since the day of today military certificates which was obliguatory to obtain for non-Eu Residents when purchasing a...
Read more + 2 Jul 2021
The Alicante Association of Real Estate Agents points out that national buyers have partly compensated for the fall in...
Read more + 13 May 2021