Villas for Sale in Cabo Roig Orihuela Costa. 10 Tips to Buy Property in Orihuela Costa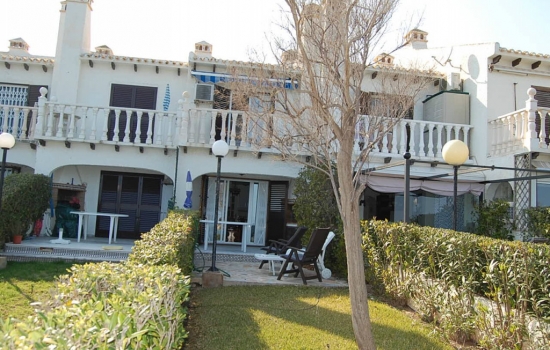 Main 10 Tips to Buy Property in Orihuela Costa
There is plenty of advice out there for people buying property in Spain. Not all of this information is up-to-date or equally relevant or precise, so in Mevilla we would like to share our expertise in the business.
Main Stages of Purchase Process in Spain
Stage 1.
The buyer makes an offer, usually through the seller's estate agent. If this is accepted, then the buyer and seller sign a preliminary contract (contrato privado de compraventa) and the buyer pays a deposit, typically 10% of the purchase price which will be forfeited in the event of the contract not being completed. If a mortgage is required, the buyer should make sure that this has been arranged beforehand with their mortgage provider. The contract of sale (escritura de compraventa) is usually signed in front of a notary, at which point the full sale price, taxes and other costs become due.
Stage 2.
Although the seller is responsible for hidden defects in the property, even if they are not aware of them, a survey is recommended as a good safeguard, any defects can then be readdressed. It is a good idea for the buyer to ensure that the electricity, water, community charges and local rates (IBI) are paid and up-to-date and that there is no outstanding mortgage or other charges against the property. If you are buying a new property you should ensure that it has a habitation licence. Your lawyer will advise you in this respect.
Stage 3.
Paying the costs and taxes associated with buying a home can be completed by the buyer or their agent. However, it is the buyer's responsibility to ensure all taxes are paid. The buyer is also responsible for registering the property. The notary may provide this service for a fee, and/or may notify the registry office that the sale has taken place, without completing full registration. Remember that Spain has a capital gains tax of 21–27%. Your lawyer will withhold funds to cover the seller's potential liability for capital gains tax.
Now, take a look at these tips in order to face appropriately all the stages in this process.
Tip 1. Make Your Research
Buying a property is the single most important personal investment you are likely to make. Getting it right is crucial, so make sure you know what type of property you want/need and what location you would like to live in.
Tip 2. Put Your Finances in Order
Work out your budget to include the buying costs, taxes. This way you know exactly what to budget for.
Tip 3. Check Out the Cost of Buying Property in Spain
Also find out in advance what the running costs of the property will be, from bills to mortgage payments to taxes. This way you know exactly what to budget for.
Tip 4. Explore the Areas You Like
Visit different areas, view properties at different times of day and check for elements such as environmental noise, proximity to roads, shopping centres etc. Some areas may be quiet and peaceful at certain times of day while others can be noisy.
Tip 5. Think About the Things You Will Need In The Future
Think about the future. Will living far from anywhere in your 40s or 50s still suit you in your 60s or 70s? Will that lovely property with acres of land be a blessing or a curse? Think about what you will need in the future and what will be practical for you.
Tip 6. Get the Paperwork Checked
A standard procedure in buying property anywhere is to instruct a lawyer to ensure it's documentation is in order and there are no outstanding debts.
Tip 7. Get Everything in Writing
The vendors may have given a verbal agreement to leave all their furniture or pay those outstanding bills, but unless it's in writing it isn't legally binding.
Tip 8. It Is Advisable To Hire a Lawyer
Make sure you choose a lawyer with your interests in mind and make sure they check and double check all fees, taxes, costs and paperwork for you. We can refer you to legal firms we trust and recommend.
Tip 9. Keep Communicating
Choose agents and legal representatives that will keep you in the loop throughout the whole process. This is an important investment and you need to be in the know at all times, so we make sure that you won't have to chase us at any time.
Tip 10. Keep a Contingency Fund
It is always good to keep some funds aside for any practical or decorative requirements that may come up.
Mevilla, villas for sale in Cabo Roig and other locations of Orihuela Costa
In Mevilla we are specialized in detached property in Orihuela Costa and Costa Blanca. On our site you will find a selected portfolio of detached houses in Cabo Roig, La Zenia, Villamartin, Campoamor, La Veleta, Punta Prima or Playa Flamenca, among others.
If it is your wish to purchase a property in Orihuela Costa you are on the right site to get a first impression on prices and offers for properties on the coast or on golf developments between Costa Blanca, Costa Calida and Mallorca. Please just have a look.
22 Apr 2016
Latest News

Mevilla on the popular TV show "A place in the Sun" Mevilla - how we expand your possibilities when selling your...
Read more + 25 Nov 2021
Since the day of today military certificates which was obliguatory to obtain for non-Eu Residents when purchasing a...
Read more + 2 Jul 2021
The Alicante Association of Real Estate Agents points out that national buyers have partly compensated for the fall in...
Read more + 13 May 2021