Rising property prices in Spain - a correlation between house prices and tourist visits.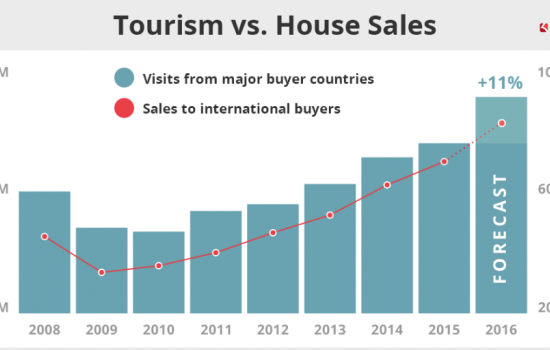 Rising property prices in Spain - a correlation between house prices and tourist visits.
In Mevilla Real Estate we know from our 15 year long experience that only very few clients pay 300 - 500 EUR for bank valuation before they decide to buy a certain property. Usually we meet he valuator from the bank 1 or 2 months after the purchase contract has been signed.
Land registry information is even older. They can only publish properties which have been sold, the signing of the title deed at the notary has been done and they got registered in the land registry. Between signing a purchase-sale contract and going to the notary normally 2-3 months go past, add another month until your property is registered in your name. In some cases as much as 5-6 months if buyer and seller agree such a long time span for personal reasons or if difficulties appear. So it is realistic to asume that Land Registry Statistics show what has happened 4 month or more ago.
This is why I think the following information I found on a property portal Kyero shows a really interesting correlation between Tourist Visits and Property sales.
Frontur reported an 11.4% rise in tourist arrivals in January/February 2016 from Spain's main sources of property investment – UK, Germany, France, Italy, Ireland, Belgium and the Nordic countries.
Other indicators that are easy to monitor and very insightful are:
1. GDP Growth
Gross Domestic Product offers a quick way to know if Spain's international investors are in the mood to spend.
High growth converts the base of solvent buyers who like to invest in their quality of live. A nice property in Spain in the right spot is a good way to invest your funds. It does not mean that you spent it, as you will probably see a decent return of investment if you compare prices now and in 5 o 6 years time, which is usually the time our clients keep their property for a minimum before they move on to a bigger villa.
You can get a very quick skim of national economies via World Bank GDP Growth Tables. For context, Spain and Germany are growing slowly but steadily at 1.4% and 1.6% respectively. The UK has pulled ahead of the Eurozone with 2.9% growth, helping to explain a recent surge in British enquiries.
Meanwhile Russia is growing at a very weak 0.6% – Russian buyers are still interested but at lower budget than before.
2. Exchange rates vs. HPI
The exchange rate makes an obvious difference to overseas buyers and a weakening Euro can drive sales by making houses cheap. British buyers now have 25% more purchasing power in 2016 than they did in 2008 when the Pound plummeted against the Euro. The opposite happens to the russian market where the ruble has devalued against the EURO by almost 50% when 1 EURO cost around 40 Ruble it is now at 75 Ruble and it has recently been at 96 Ruble against the EURO.
However the effect can be magnified even further by taken into account todays lower house prices
Example: Imagine a British buyer fell in love with a house costing €200,000 in 2008 – a cost to them of £196,000. HPI says the same house now costs 31% less and at today's stronger exchange rate, that same house would now cost our buyer £109,000 – saving them £87,000 (43%).
Maths is making Spain good value.
3. Rental Values and Living costs
Some international buyers relocate to Spain, where the sots of living is much cheaper than in the UK
Others are looking for a solid return on their investment via rising property value and / or via rental income.
Rising rents increase yields and reassure international buyers. There are new laws coming to control especially holiday lettings which will try to ensure the Spanish Tax authorities to get their bit out of the cake. Something to keep in mind...
Sources: Frontur / INE.es / Fomento.gob.es / Kyero
20 Apr 2016
Latest News

Mevilla on the popular TV show "A place in the Sun" Mevilla - how we expand your possibilities when selling your...
Read more + 25 Nov 2021
Since the day of today military certificates which was obliguatory to obtain for non-Eu Residents when purchasing a...
Read more + 2 Jul 2021
The Alicante Association of Real Estate Agents points out that national buyers have partly compensated for the fall in...
Read more + 13 May 2021