The citizens of northern Europe prefer to acquire a home in torrevieja and surroundings. we tell you why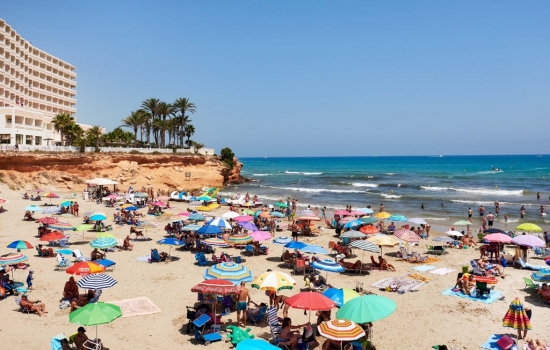 It is a proven fact that Torrevieja is the preferred international tourist center for citizens of northern and central Europe.
What used to be a small fishing village, currently has a permanent population of approximately 130,000 inhabitants, which in the summer rises to almost 500,000 people
Some of the fundamental reasons why they choose Torrevieja as a place of residence are:
In Torrevieja a very healthy climate is enjoyed due to both its coastal situation next to the Mediterranean Sea and the two large salt mines available.
In Torrevieja the sun shines all year. The rains are scarce or none. Average annual temperatures of 20º are enjoyed. This encourages all kinds of outdoor activities at any time of the year.
It has unrivaled beaches. Its golden sands and warm waters are ideal for bathing the whole family.
Splashing its four great beaches we find beautiful coves of turquoise blue sea.
The Playa del Cura is the most popular and is located in the same urban area, as well as its famous natural rock pools.
In them you will find sun lovers all year round, relaxing while listening to the soft murmur of the sea.
9 Mar 2019
Latest News

Discover the coast on J/109 Mevilla-Jumbuck With our experienced skipper we offer you day charters...
Read more + 14 May 2020

Are you passionate about the sea? Is your dream to live in a place where the sun always shines? MEVILLA has fabulous...
Read more + 20 Feb 2020

If you want to live in the tourist Orihuela Costa, you will be surprised to discover the beautiful surroundings where our...
Read more + 14 Nov 2019